AUTOGRAPHED COPIES AVAILABLE BY REQUEST
Free shipping within the USA
Kirvu ~ Come Near - $15

Produced by Scott Leader, Kirvu features thirteen songs for Shabbat and beyond in both Hebrew and English. It makes the perfect gift or addition to anyone's music collection.
P'tach Libi ~ Open My Heart - $15

Second Place Winner for Best Jewish Album and nominated for Best Jewish Song ("Yisrael B'nishmati") in the 2009 Just Plain Folks Awards; features sixteen original songs for Shabbat and beyond, including a special healing song, a new version of "Hashkiveinu", and Chanukah hit, "Al Hanisim"..."Once again you've planted trees in the landscape of your heart, mind and voice that offer shade and sweet fruits to sustain our people." Rabbi Howard Bogot
Ahavah Rabah ~ With Deep Love - $15

Original songs of spirit, love, & hope; features award-winning songs "Y'did Nefesh", Birkat Haneirot", & "Ahavah Rabah"; also includes Jeff Marder's Shalom Aleichem & Haderech Lashalom by Sharon Katz & Rebecca
The Light of Shabbat - $15

A religious experience...beautiful Shabbat morning music; mostly original, with Steve Dropkin's Oseh Shalom and a few traditional favorites..."The engaging melodies that fill this CD come from a mysterious place in Rebecca's soul. Her new settings for traditional t'filot infuse fresh meaning in words you've known all your life." Rabbi Phil Cohen
Only Time Can Tell - $10

Joni Mitchell meets Steely Dan. A blend of jazz, folk, and rock love songs to soothe your soul...
Rebecca Songs (Songbook) Volume I - $25
Thirty-eight songs transcribed with notes and guitar chords, including two piano arrangements; features music from "The Light of Shabbat" and "Ahavah Rabah", as well as two life-cycle songs from "Only Time Can Tell" and "Hashkiveinu" from "P'tach Libi". A great tool for cantors, soloists, songleaders, and lay-leaders alike!  
Rebecca Songs (Songbook) Volume II - $25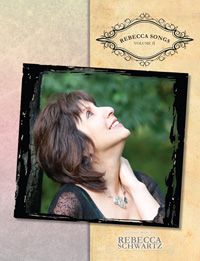 Rebecca Songs Volume II contains the sheet music to the songs from "P'tach Libi" and "Kirvu". Featuring texts straight from the siddur and Torah, as well as original, contemporary settings, Rebecca's gift of melody transcends style and stereotype. Includes Rebecca's personal reflections on each song, plus Hebrew text, translations, text citations, and capo chords.
Rebecca Songs Volumes I & II Value Pack - $35 (Save $15!)